In a nutshell
Absolutely! More even, it's recommended! Swaddling your baby in the Piep right after birth will make it all the easier for your newborn to recognise the security of this little cocoon.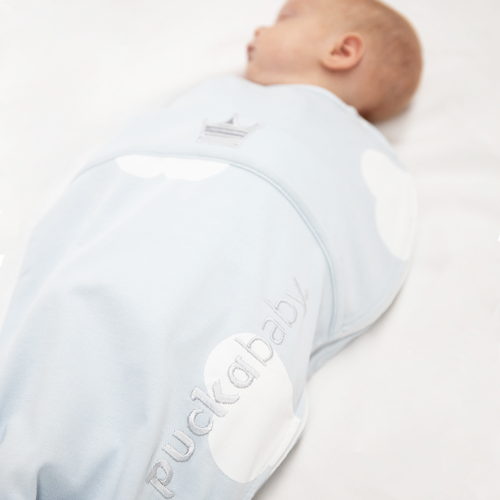 In more detail
This little cocoon reminds your baby of its time in mommy's womb: safe and secure. The sense of security of the cocoon helps your baby settle down and it can no longer startle awake due to uncontrolled movements.

Sleeping in the Puckababy is a light form of the traditional tight swaddling in cloth. This traditional tight swaddling comes with certain risks such as heat accumulation and growth problems of the hips (DDH).
These risks do not apply to the Puckababy as Puckababy swaddle sleeping bags are not a tight fit. They fit snugly around your baby like a little cocoon, with enough freedom of movement inside the sleeping bag so as not to inhibit a healthy physical development. In addition, Puckababy sleeping bags are tested in accordance with the strictest standards in terms of baby safety, they are free of dangerous substances and are Oeko-Tex 100 class 1 certified.
What if my GP advises against swaddling?
Doctors that advise against tight swaddling often do recommend Puckababy's swaddle sleeping bag. Examples include potential hip problems following breech birth or babies suffering from eczema. Like so many other babies these children can also be restless and restricting their movement helps them sleep through. Puckababy is often recommended in such cases because the cloth is not too tight, it doesn't impede growth and ensures excellent air and temperature regulation.
View the product in our shop